Wattlefield Pottery
Pottery for daily life - handcrafted by Andrea Young
My blogging aim is to show some of what I've learnt so far and some of what I'm endeavouring to achieve in the future. This may serve the purpose of helping others who are starting out with their own pottery making.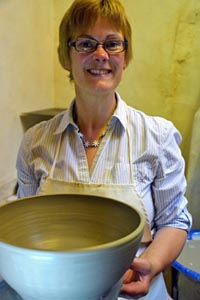 I have ten years experience of pottery making behind me, none of which came easily. It has been a steep learning curve but I'm beginning to get a better view.
Here are some teapots from yesterday's kiln opening;  I couldn't help feeling pleased with the results! In the past I've tended to shy away from making teapots as previous attempts have ended in disappointment. The individual components need to be right in their...
read more
Well Prepared Clay is the Key to Success. Before any throwing can commence the clay needs to be well prepared.  As a beginner, I struggled to achieve any success on the wheel and the main problem was that the clay I was using was too hard. My learning began at adult...
read more